Victor Wollcraft was a suspect in the murder investigation of activist Claire Godwin in The Wollcrafts' Creature (Case #30 of Grimsborough).
Profile
Victor is a 46-year-old scientist with combed dark brown hair and brown eyes. He is seen wearing a white coat. It is known that Victor has burned skin, a knowledge in engineering and speaks German.
| | |
| --- | --- |
| Height | 5'11" |
| Age | 46 |
| Weight | 180 lbs |
| Eyes | brown |
| Blood | AB- |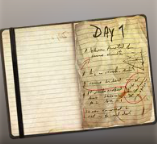 After finding Claire's burned body in the Wollcrafts' garage laboratory, Jones and the player were interrupted by Victor, who said that he had just arrived and knew nothing about the murder. When asked about the experimental machine, Victor replied that he had a permit for this machine and that it was completely legal. He then told the team that he was a respected scientist and that he would never hurt a human being. As for the machine, Victor said that it was an electronic revolution and prototype that was designed to study the activity of the brain with an accuracy never attained before. The team then asked Victor to give them the notes which he was holding very tightly.
Victor was later again interrogated after the team had found his dog, Elphaba's dead body at the Ellington Pet Cemetery, grossly reconstructed with stolen bones and other cadavers' body parts. When asked if it was his work, Victor replied yes. He explained to them that his wife, Fran Wollcraft and Elphaba had trained very hard for the annual Dog Pageant competition, and that she was heartbroken when Elphaba died. Victor then said that he could not watch his wife in such a state, so he dug up old theories on reanimation, and decided to give it a shot, and that Fran went on board right away. The team then told Victor that they had analyzed his experimental machine and found out that the voltage used to kill Claire caused it to produce sparks, so they asked him to show them his torso to see if he had any burns. Victor then showed the team his torso and explained to them that the machine was not perfect and that it had burned him during a previous experiment.
Trivia
Case appearances
Gallery
Community content is available under
CC-BY-SA
unless otherwise noted.