Valeria Poe née Lorenzo, appearing as a minor character in Criminal Case, was mentioned during the events of Shear Murder (Case #5 of Mysteries of the Past).
Appearance
Valeria was an Italian immigrant to Concordia happily married to Maximillian Poe. She had curly black hair and wore a white shirt before her death. She was known to have a severe respiratory condition.
Events of Criminal Case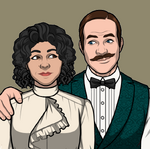 Valeria's death played a central role to the investigation into her husband's murder, which would occur six months later.
It was revealed that Valeria's death left Maximillian in such a state of grief and depression that he had to seek medical council from Dr Ezekiel Jones, as well as spiritual council from Father Donovan. Furthermore, Vincent Lorenzo, Valeria's brother, said that he went to Concordia to visit her, but it was too late as she was already dead when he arrived.
Later on, it was revealed in her death certificate that she died of acute respiratory failure and that Maximillian blamed Dr Jones for her death. It was also revealed that Vincent blamed Maximillian for not telling the Lorenzo family of Valeria's condition prior to her death. Later, Sheila Black, Maximillian's friend, was revealed to have killed him because of her strong feelings for him.
After the arrest, Dick and the player investigated Valeria's death. They found Valeria's scarf, which had traces of chianti laced with hemlock, a poisonous plant. Viola said that someone could have poisoned her and made it look like she died of acute respiratory failure. Dr Jones said that Valeria wore that scarf on the birthday dinner she had the night she died. Audrey Scott said that the birthday dinner was held in the greenhouse, so Dick and the player went there and found the chianti bottle addressed to her. It was revealed that Sheila had given the bottle. In prison, Sheila admitted that she killed Valeria so that Maximillian would be single and so she would have a chance with him once more.
Case appearances
Gallery
Community content is available under
CC-BY-SA
unless otherwise noted.