NightWolf
Biographical information
Full name
Lucas (Wolf)
Alias(es)
NightWolf
BloodyNightWolf
Wolfy
Gender
Male (And also a wolf =3)
Status
Alive
Birth
2002
Nationality
Canadian
Residence
Québec, Canada
Profession(s)
11th grade Student.
Family
Unnamed Sister

Unnamed Mother Unnamed Father Unnamed Grandmother Unnamed Brother-In-Law

Partner(s)
Someone x3
Affiliation(s)
Police force and NightWolf's gang =3
Game information
Appears in
Criminal Case
Alright Mate ! Welcome to my profile page ! I'm a canadian guy who like CC. Even if it look like i'm a cold and horrible guy because of my name and picture, i have a really big heart made of gold and i will never do something horrible. All my comment are really gentle and i really like to read the theory of people to know what they think is going to happens ! So, i said to you, good day m'lady or mister! You'll find me in the forest or with FNAF's animatronic, surely Foxy [1] :3
"

One of the best FNAF fans I have ever met! Also helps me if I mess up XD.

"
"

"Why Would he do that" Wolfy said when we arrested Finley "BECAUSE HE'S MESSED UP!" Bonnie replied

"
| | |
| --- | --- |
| Height | 5'2" |
| Age | 17 |
| Weight | 169 lbs |
| Eyes | brown |
| Blood | O- |
Progress
What i'm doing on the wiki
Even if i'm not a administrator or others, i'm doing my best to help peoples and also, to help the wiki grow. What is more recent for me was the sudden car accident of my best friend... That almost destroy me, but some peoples of the wiki help me get trough and now, my best friend is out of hospital and i can finally help him get all the way trough that bad moment of our life.
More about me on word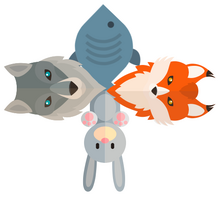 My primary language is French, but i'm also bilingual because that, in my school, we're learning english and I know many words in English, so you can talk to me if you want. The characteristics of my personality are : Curious, sociable, kind and more. If I seem agressive in my message, I'm not at all. I don't want any trouble or anything, except to be gentle and to give my ideas =3. Also, if you want to go see a good friend of mine on the wiki, go check User:Doctor Bonnie Gaming 2. He's a really nice guy and a good mate of Foxy (me) =3. If you want to see the profiles of two of the most kind person I ever met, go see Mik and Arosa. Also, there's a guy from Vancouver whose name is Jordan that I really enjoy talking to and he did help me and Bonnie a lot, so go check him out ! I'm sure he can help you =3.
Also, I have a gang constitute of a Bonnie who I consider a great friend, a fish who like to laugh and a Fox who I consider my brother =3
Characters
Honor to the Fallen
Favorite Team Members
Favorite Cases
Somes infos on me
This user knows CPR
This user is left-handed
This user eats chocolate
This user speaks French
This user wears glasses
This user plays guitar
This user eats chocolate cake
This user plays chess
This user has brown hair
This user has brown eyes


MY WIKI MATEYS =3
ME ?
BloodyNightWolf
| | |
| --- | --- |
| | This user is a member of The Criminal Case Theorists Community. |
| | |
| --- | --- |
| | This user thinks that Jonah is awesome |
Community content is available under
CC-BY-SA
unless otherwise noted.