Stella Dernier, appearing as a minor character in Criminal Case, was mentioned during the events of The Hunger Planes (Case #28 of Pacific Bay) and Light My Fire (Case #29 of The Conspiracy).
Profile
Stella was Celine Dernier's twin sister and Meredith Dernier's sister. She was "lost" after a tragic plane crash sometime in the 1940s. 
Death
Unbeknownst to everyone, Stella, after surviving a plane crash at some point in the 1940s, supposedly died due to suffering a sudden heart attack from seeing the infamous boogeyman known as "The Night Walker".
Aftermath
Stella's actual cause of death would not be revealed until after her sister Celine was found innocent during the murder investigation of an Osprey Airlines pilot.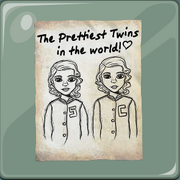 Under orders by Chief Marquez, the team of Frank and the player had to extract Celine out of an old observatory (due to the location's nature and the fact that it was a crime scene) with a sketching of herself and her late twin sister, Stella.
Furthermore, Celine had to cooperate with criminal psychologist Russell during the Pacific Bay Police's probe of the Night Walker, in which she had to confirm the dead woman in the "Jane Doe" picture (pictured above) as being Stella—thus confirming her death as a cold case from the late 40's.
Case appearances
Gallery
Community content is available under
CC-BY-SA
unless otherwise noted.