Shawn Bailey was the killer of street racer Carlos Antonio in Death on Wheels (Case #2 of Pacific Bay).
Profile
Shawn is a 25-year-old bald African-American tattoo artist with a very light stubble. He wears a mid-gray singlet with 'Oceanic Tattoos' on it. He sports a lot of tattoos all over his body. Other than that, he has a diamond earring on his left ear, a lip piercing, and a bruise under his left eye. It is known that Shawn knows car mechanics and smokes weed.
| | |
| --- | --- |
| Height | 6'0" |
| Age | 25 |
| Weight | 204 lbs |
| Eyes | brown |
| Blood | A+ |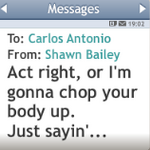 The first time Frank and the player confronted Shawn was moments after Carlos's cell phone was found inside a pile of panties, unlocked, and digitally analyzed by Hannah. Hannah found a text message arousing her attention--the victim was told to act right or face the consequences, and the text was sent from Shawn, in which Hannah transmitted the information to the player's tablet, much to Frank's dismay. In plain simple words, Frank and the player rushed to Shawn's address to interrogate him for the first time. Shawn claimed Carlos and himself were friends and also claimed he was joking when it came to the text Frank mentioned, even going as far as declaring Carlos a brother in spite of the rage problems Carlos had.
The second time the team talked to Shawn was a little after the team found a faded shift schedule inside Oceanic Tattoos restored with forensic powder. Frank wanted to know if Shawn knew anything about the murder weapon. Shawn liked the car but as much as Frank wanted to know who drove the car during Shawn's shift, Shawn told the team many people came during his shift and kept no records of those vehicles, as people who do business with Oceanic Tattoos buy tattoos for their body. Shawn said that the last time he saw Carlos was when he had a good time at Derek Stone's party.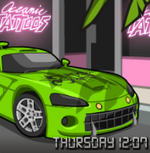 It was later revealed that Shawn was the killer of Carlos Antonio. During his arrest, Shawn admitted he was in love with Carlos's girlfriend, Memphis Banach. When Shawn realized Carlos was abusing her, he tried getting Memphis out of the relationship and talking Carlos into stopping his mistreatment before resorting to strapping Carlos onto a car he had hijacked and killing him with it. Judge Dante sentenced Shawn to 20 years in jail.
Trivia
Like Derek and Memphis, Shawn does not sport his bruise in the promotional image for Death on Wheels.
Case appearances
Gallery
Community content is available under
CC-BY-SA
unless otherwise noted.