Samantha Warner was a suspect during the murder investigation of her boyfriend, plastic surgeon Alan Cardwell, in Under the Knife (Case #10 of Grimsborough).
Profile
Samantha is a 37-year-old singer and actress with long black hair that flows to one side. She has a purple rose on the left side of her hair. She wears big black cat eye glasses. On her right ear, she has a large blue bead earring. She has bright red lipstick on. Samantha wears a purple dress and a gold necklace with a blue jewel on the inside of it. It is known that Samantha drinks coffee, plays golf and is right-handed.
| | |
| --- | --- |
| Height | 5'5" |
| Age | 37 |
| Weight | 120 lbs |
| Eyes | brown |
| Blood | O+ |
During the autopsy of Alan Cardwell, Nathan found a crumpled piece of paper lodged in his throat. Piecing back the photo, they found a picture of Samantha, who then told them that she was in a relationship with Alan. They then inquired if someone could have killed Alan for her. She contacted them later and informed them that Paul Oaster could be the only one who would kill Alan for her. It was then revealed that not only was Samantha seeing Alan and Paul, she was also seeing Curtis Newman. Joshua Kempe then told them that she lived across the street from the place where Alan was killed when Joshua was on his way to give a home hair appointment.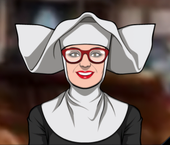 After Paul was arrested for the murder, Samantha felt really terrible for making these men play out against each other. She decided to change her ways and decided to dress like a nun. Jones and the player bought into her story, just before Samantha revealed that she was getting late for her date with Curtis, and that she had only dressed like this for a movie role.
Case appearances
Gallery
Community content is available under
CC-BY-SA
unless otherwise noted.