Myriam Priest, appearing as an unseen minor character in Criminal Case, was mentioned during the events of The Secret Experiments (Case #21 of Grimsborough).
Profile
Really not much is known about Myriam apart from the fact that she was the grandmother of the now-deceased CCN news reporter, Rachel Priest.
Events of Criminal Case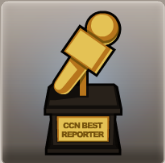 After Rachel was murdered, Carl Ackerman, Rachel's cameraman, requested the team's help in the Additional Investigation of Rachel's gruesome murder case. Carl asked the team to find Myriam's lost phone number (which he had written in a notepad) so that he could call and ask her to fetch Rachel's CCN prize of "CCN Best Reporter". The team then searched the Grim News Headquarters and found the notepad, and finally gave it to Carl, who was relieved as he wanted Rachel's prize to end up with her family. The team felt Carl did the right thing after he had wrongly sold out Rachel to Alden Greene (as revealed earlier in the case), feeling that Rachel could finally get the recognition and respect she deserved.
Case appearances
Gallery
Community content is available under
CC-BY-SA
unless otherwise noted.