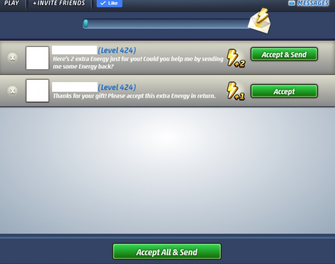 The Message Center in Criminal Case is where the player can find game requests and messages sent by their friends.
Description
There are 3 different types of messages: report requests, energy gifts and Thank You gifts. The messages in the inbox will be ordered according to their type.
The amount of messages the player can receive varies according to the type of message. Once the player reaches the inbox limit for a particular type of message, all additional incoming messages of that type will automatically be deleted.
All messages remain active for 3 days (sometimes a little more); they are automatically deleted if they are not accepted before their expiration date.
The messages are ordered as follows:
Report requests: 20 messages max.

Energy gifts (+2 energy): 100 messages max.

Thank You gifts (+1 energy and Lucky Cards): 76 messages max.
For example:
If the player has 76 Lucky Cards waiting to be accepted, they will need to accept some to be able to receive more of them.
Notes
The Message Center can hold a maximum of 196 messages.
Only 100 messages can be displayed at the same time. Once the previous messages have been accepted, the Message Center may need to be reloaded to display more messages.
If you collect energy from the Message Center on your computer, the energy will not be added to your mobile device, and vice versa. Moreover, messages from the Message Center can only be accepted once—meaning that if you accept them on your mobile device, you cannot accept them again on your computer, and vice versa.
There is a button at the bottom that allows you to accept multiple messages and gifts at once.