Marcus Peel was a suspect in the murder investigation of Captain Harry Hugo in The Hunger Planes (Case #28 of Pacific Bay).
Profile
Marcus is a 32-year-old flight steward with brown eyes, messy black hair, and a stubble. He is seen wearing a black vest with an airplane pin above his right pocket and an indigo handkerchief in his left pocket, and a striped green-and-blue tie over an indigo shirt. He also has frostbite on his ears and nose. It is known that Marcus uses herbal toothpaste, can sew, takes travel sickness pills, and smokes.
| | |
| --- | --- |
| Height | 5'9" |
| Age | 32 |
| Weight | 150 lbs |
| Eyes | brown |
| Blood | B- |
Marcus found himself in trouble after the player found a sick bag full of puke inside an Osprey Airlines food trolley containing a message to Captain Hugo from Marcus. Amy thought that was disgusting but the player suggested an interrogation of the flight steward given Amy's conclusion that Marcus did not like the victim. Hannah prevented Marcus from deriving her from her cigarettes and placed him in the interrogation room, leaving him open for a discussion.
Marcus attempted to sugar-coat his hatred towards the victim as he claimed he played practical jokes to cheer Captain Hugo during a boring flight in the skies. Amy brought the disgusting sick bag to Marcus, after which he made clear that it contained a little child's vomit, but with Captain Hugo dead, Marcus does not know whom to play practical jokes on anymore.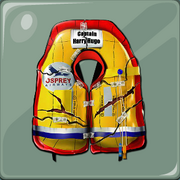 Marcus was in deep trouble after the player found Captain Hugo's life vest which was damaged during the flight. Given that the flight attendants have access to the aircraft's life vests in air traveling lingo, Amy realized that this was a plausible reason for another conversation with the air steward.
Amy did not like the idea of Marcus sabotaging a life vest as a joke, but Marcus justified the reason he sabotaged the life vest by showing feelings of discontent over flying and the poor pay of being a flight attendant. Marcus had to steal cash from the passengers to supplement his life as a flight attendant, but Amy hated that idea, resulting in Marcus countering that he also stole Celine Dernier's motion sickness pills to avoid incurring wanton costs of his dependence of them. Captain Hugo would report Marcus's act of thievery to the police, and to keep the victim quiet, Marcus sabotaged Captain Hugo's life vest.
Marcus was found innocent after Bobby Prince was found guilty of grand homicide in spite of his thievery as a flight attendant.
Case appearances
Gallery
Community content is available under
CC-BY-SA
unless otherwise noted.