Lorena Pratx was the killer of author Ernesto Cárpena in Murder, He Wrote (Case #44 of World Edition).
Profile
Lorena is a 28-year-old librarian. She has brown hair tied into a bun and wears a white and sky blue blouse with a name tag and can be seen holding several books. She also has freckles and wears a pair of glasses. It is known that Lorena smokes, reads Jorge Borges and drinks mate.
| | |
| --- | --- |
| Height | 5'5" |
| Age | 28 |
| Weight | 132 lbs |
| Eyes | green |
| Blood | O+ |
Lorena became a suspect after the player and Michelle found her glasses on the crime scene. She was saddened to hear of Ernesto's death, saying it was such a loss to literature. When the victim started to come to the library to work on his new book, she felt very honored. Dupont was curious as to what his book was supposed to be, Lorena said the victim was researching a mythical treasure of the conquistadors. When informed about the glasses case by the victim, Lorena simply said she would never wear those glasses again.
Lorena was interrogated again about a crossword where the victim wrote insulting remarks about her. She said the victim had no respect for the library, grabbing books without asking and leaving crumbs on some of them. Unlike Ernesto, Lorena said she treated the books with the utmost care, and she called him a danger to books and that he had no shame.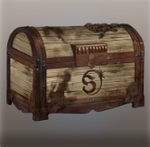 The evidence later pointed to Lorena as Ernesto's killer. Lorena tried denying involvement, but eventually gave in and admitted to the murder. Dropping her façade as a harmless librarian, Lorena revealed that she tortured Ernesto in order to gain information on the SOMBRA document cache he had accidentally found in the mountains, before proceeding to stab him with a facón 23 times and hiding the documents. In court, Judge Adaku sentenced her to 40 years in prison for the torture and murder of Ernesto Cárpena for SOMBRA.
Jack Archer accompanied the player in the search for the cache post-trial. The two found Lorena's laptop and a newspaper clipping picturing Captain Alejandro Pratx. They interrogated Lorena in jail, where she said that the Antarctic explorers had dispersed after the Argentine government stopped their expeditions. The two searched the library again afterwards, where they found Lorena's birth certificate. According to Dupont, Lorena was born in Luzaguay, where Alejandro had chosen to emigrate.
Trivia
Lorena is one of the killers who are interrogated once more during the Additional Investigation.
Case appearances
Gallery
Community content is available under
CC-BY-SA
unless otherwise noted.