Joe Stanford was the victim in Open Wounds (Case #20 of Pacific Bay).
Profile
Joe was an American Civil War reenactment actor based in Jazz Town. He had short blond hair concealed underneath a large blue colonel rank hat and had blue eyes. He wore a blue Unionist soldier uniform consisting of a black sash over his left shoulder with a gold buckle and the American flag on it. He also sported a gold medal with American colors at the top of it.
Murder details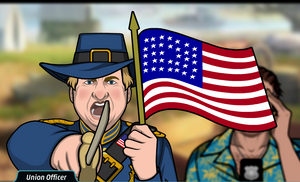 Frank and the player witnessed Joe get shot with a cannonball while playing the role of Colonel Dexter Blade in a Civil War reenactment. They sent his body to Roxie, who then sewed it back together before confirming. the cannonball as the murder weapon. She also found traces of mint julep residues over Joe's wounds, meaning that the killer drank mint juleps. Roxie also found wood splinters embedded onto Joe's skin which turned out to be from a wooden compass that reenactment fan Wayne Billings gave to Joe.
Relationship with suspects
Wayne was a fan of the reenactments and wanted to partake in them, but Joe refused to give him a cameo role because he was black. School teacher Harriet Davis hated Joe for encouraging violence in children through his reenactments of the war and because he posted a rifle shooting invitation on their school. Joe also extended his reenactments to his personal life, blocking his daughter Gwen's access to cellphones, modern food, and electricity. Fellow actor Stanley Bullock also disliked Joe for insisting that Dexter Blade and the Union won in the Battle of Pacific Bay, when in fact the Confederates won the battle. Dexter's descendant, Veronica Blade, thought Joe unworthy to play him. Additionally, Veronica filed a repair quote against Dexter for ruining her estate and refusing to pay her back, although her accusations may be exaggerated as she needed the money because she was broke.
Killer and motives
The killer turned out to be Harriet.
Harriet denied the accusations but soon admitted to the crime, admitting that she wanted to protect her students from Joe's fostering of violence. She then shot him with a cannon to do so. Judge Dante sentenced her to 20 years in jail.
Case appearances
Gallery
Community content is available under
CC-BY-SA
unless otherwise noted.