Hugo Mercier was a suspect in the murder investigation of his son, thief Theo Mercier, in Under the Thunderdome (Case #21 of Pacific Bay).
Profile
Hugo is the 60-year-old dark-skinned father of Theo Mercier. He has dark gray hair with a gradient of light gray tone on top. Besides that, he has a mustache and a mole beside his nose. He wears a torn and tattered white t-shirt accompanied by a faded star logo and a huge mud stain. He is also seen sporting a blue with white stripes stitched jacket over the t-shirt. It is known that Hugo drinks chicory and uses insect repellent.
| | |
| --- | --- |
| Height | 5'7" |
| Age | 60 |
| Weight | 160 lbs |
| Eyes | brown |
| Blood | A+ |
Hugo found himself in trouble after Amy and the player found a fishing photo (with Hugo intentionally blurred out but identified by the player) at the Mercier residence. Hugo was not willing to talk to anyone unless the visitor helped Hugo out but Amy had to calm Hugo down to inform him about Theo's murder. Hugo did not believe what Amy said but believed that Theo stood for thievery than to protect his family. Amy wanted Hugo to evacuate due to Hurricane Zelda rapidly approaching but Hugo refused to do so since he was able to survive Hurricane Yves without a scratch.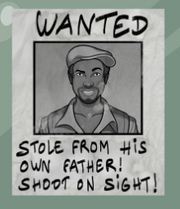 Hugo would have to go through a second discussion with Amy and the player after the player found a wanted poster in which he wanted Theo shot on sight. Hugo made the wanted poster since Theo stole from him every chance he had but Amy told Hugo that money should not be the reason as to why he wanted his son shot down. Hugo told Amy that Theo never cared about his family but was not willing to talk to the police unless the team helped Hugo out.
Hugo was found innocent once pharmacist Claude Lamothe was placed behind bars for his son's murder, but his troubles were still far from over.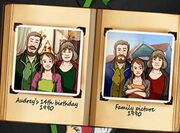 Yann found a new lead regarding the serial killer known only as "The Puppeteer": seeking Hugo's help, he confirmed that the previous owners of the Mercier residence were all murdered by the Puppeteer circa 1990 (the child was not harmed, though). Yann would also discover the Puppeteer's modus operandi: to kill parents moments after a verbal fight between the victims and their 14-year old child, which matched the pattern of his parents' death back in 1983.
Case appearances
Gallery
Community content is available under
CC-BY-SA
unless otherwise noted.