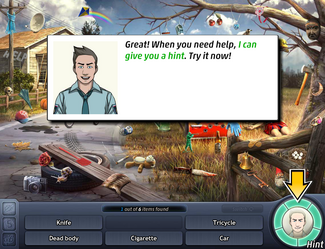 Hints help to find hidden objects during crime scene investigations in Criminal Case.
Overview
Hints can be used by the player to find hidden objects in crime scenes, and to use a hint, the player will need to click on the avatar of their partner at the bottom right corner.
When the player uses a hint, a hand will appear pointing toward one of the remaining objects to find. Once the player has used all the available hints (5) in a crime scene, the hint circle will start to slowly refill until 1 hint becomes available again. Every unused hint at the end of the scene will reward the player with 20,000 additional points. The player can thus get up to 100,000 extra points.
The player can also win trophies by achieving certain tasks related to hints.
Amount of hints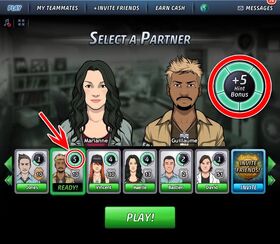 Hints are provided by the partner the player has chosen at the teammate selection screen before starting a crime scene investigation. The number of hints available (from 1 to 5) is displayed at the bottom right corner.
The hints the player can benefit from depend on the number of consecutive days their partners have been playing Criminal Case. If the partners remember to play the game for five straight days or more, they will have 5 hints to give, however, if they stop playing Criminal Case for at least one day afterwards, their hint counter will go back to 1. (Please note that that is not the case for in-game characters who will always provide a fixed number of hints.)
Likewise, if the player plays everyday, they will have more hints to offer and they will more likely be chosen as a partner. Also, when they are chosen as a partner by their teammate, the player will be sent a Lucky Card—unless the player's partner chooses to skip this step.
Characters from the game itself can also be chosen to provide the player with hints. (Note: Only the player's partners provide hints in the desktop version of the game.)
Notes
The player has to play Criminal Case at least once every day in order to prevent the hints counter from resetting and going back to 1.
The player can investigate a crime scene and have 5 available hints, even if their partner has only 1 hint to offer, thanks to the "5 Hints" booster or the "Hint Frenzy" Happy Hour bonus.
Community content is available under
CC-BY-SA
unless otherwise noted.