Harriet Gatewood, acting as a minor character in Criminal Case, appeared in multiple flashbacks during the events of The Poisoned Truth (Case #54 of Grimsborough).
Profile
Harriet lived in the 1600s who, according to Kirk De Haan, was a sinner and a colonial prostitute. Harriet sported the same hairstyle her descendant, Rosie Gatewood, had. Harriet wore a flower in her hair, wore a dress with a bowtie on her chest, and wore a neck garter as well. Harriet appeared to dress more provocatively than other Pilgrim women in colonial Grimsborough.
Murder details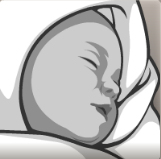 Soon after giving birth to the "miracle" baby, Harriet was stabbed to death with a kitchen knife and was left rotting in Geert De Haan's secret cave for four centuries.
Harriet would not be rediscovered until Jones and the player initiated an investigation on Rosie's murder where the team had to investigate the secret cave, found a skeleton with hairs on the scalp, and had Grace Delaney analyze it. Grace managed to confirm that the hairs belonged to Harriet, and alas opted to continue the investigation as if Harriet's demise was connected to Rosie's murder.
Killer and motives
Geert De Haan, a reverend in colonial Grimsborough, stabbed Harriet to death.
Shortly after giving birth to the "miracle" baby, Harriet told Geert that they should be proud but after the baby was born and before Harriet was able to enjoy the moment, Geert stabbed Harriet to death in order to pretend that he never had an affair with Harriet. Right after the murder, a member of the Crimson Order appeared before Geert and ordered him to tell the people of the village that the child was found in a forest as a gift from God and to lead the Pilgrim Village. Alas, Geert followed the Order's pleas without questioning, which were grounds for such "Miracle Child" legend hiding something--Geert and Harriet were spending some time together in a secret cave and for a reason Geert refused to disclose, both Geert and Harriet conceived a baby in which the Crimson Order would actually alter reality as if it was a miracle child from God.
Case appearances
Gallery
Community content is available under
CC-BY-SA
unless otherwise noted.