Gary Silver was a suspect in the murder investigation of actress Felicia Steppingstone in The Young and the Lifeless (Case #31 of Pacific Bay).
Profile
Gary is a 43-year-old businessperson primarily operating in Ivywood Hills. He is seen wearing a striped red tie underneath a white shirt and a gray jacket. He also dons the emblem of an infamous cult and a clapboard pin on the right side of his jacket. He also wears a phone earpiece in his right ear and owns a Pearphone (the in-game iPhone clone). It is known that Gary drinks protein shakes, drives a convertible and uses teeth whitener.
| | |
| --- | --- |
| Height | 5'10" |
| Age | 43 |
| Weight | 170 lbs |
| Eyes | green |
| Blood | B+ |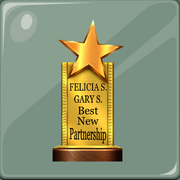 Gary found himself in trouble after Frank and the player found a trophy naming a business partnership between Felicia and Gary as one of the best new partnerships. This suggested that Gary worked closely with Felicia in business matters. In Gary's office, Frank wanted to inform the business-person about a trophy the player found at the party pool, to which Gary admitted that he threw a party at his property's swimming pool to celebrate the victim's success. Gary was devastated about the death of Felicia given that such partnerships meant everything to him.
Gary would be approached by the team a second time after the player found an answering machine, which belonged to Gary per Hannah's analysis. Hannah informed Frank and the player about a message from a casting company that wanted to warn Felicia about her failure to show up for an audition three times, which were grounds for that casting company to discontinue further business with Mr. Silver, due to Felicia's childish and unprofessional behavior. This prompted Frank and the player to have another talk with him.
Gary told the team that all Felicia was interested in were parties and fashion—the reason for him receiving messages from the casting company about the actress's no-call, no-show's. Gary did not like the idea of Felicia putting additional effort after she became famous as he believes acting is not just about becoming famous, but putting effort to maintain the fame. Furthermore, Gary suggested that he has high expectations with the people he work for as an agent.
Gary was found innocent after an ulterior motive was found to be the driving reason for murder.
Trivia

Gary says that he has an idea for a new series he would like to name Criminal Space, in which "investigators solve murders", a nod to the game itself.
Gary might be inspired by British actor Ben Miller.
Case appearances
Gallery
Community content is available under
CC-BY-SA
unless otherwise noted.