| | | |
| --- | --- | --- |
| " | Rule number one: never go anywhere without your trusted frying pan! | " |
| | —Eduardo Ramirez | |
Eduardo Ramirez, appearing as a main character in Season 1 and Season 5 of Criminal Case and a recurring character in Season 2, is the Field Officer turned Consultant of the Grimsborough Police Department.
Profile
At 46 years of age, Ramirez has short black hair, brown eyes, and a mustache. He dons a dark brown fedora and a beige trench coat over a white shirt with a black tie.
As a field officer, Ramirez would wear a standard Grimsborough Police uniform, consisting of a dark blue police shirt with two breast pockets and a police cap of the same color.
Height
5'2"
Age

41

/

46

Weight
135 lbs
Eyes
brown
Blood
AB+
Events of Criminal Case
Season 1
Introduction
In The Grim Butcher, Ramirez came in to inform the player that suspect Vanessa Carter was ready for questioning, and handed the victim's backpack to the player for examination purposes. Later on, he found out the foot sizes of some of the suspects in the case. Finding out attributes for the player's investigation would later be his niche.
During the investigation, Ramirez got frightened and started believing that The Mad Pilgrim's (a painting) ghost had killed Wilhelm Moss. He kept on acting weird and started to believe that there really was a ghost in Grimsborough. To calm him down and make him relax, Chief King sent Ramirez on a vacation. Ramirez then returned from his holiday in The Summoning.
Ramirez filled in as the player's partner after Jones was incapacitated, due to being poisoned by a cupcake he ate. With his help, the player was ultimately able to arrest the killer, the same person who had poisoned Jones.
After Madison Springer's tiara exploded and killed her, Ramirez tried to ensure that nobody would escape from the crime scene. Later on, he went back and hit Jones's head with a frying pan during Tess Goodwin's arrest as the hypnotized Jones was getting ready to kill the player.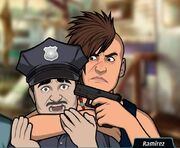 Ramirez was held captive by Keanu Ashokan at the Aloki Settlement. Ramirez started panicking and somehow managed to give a phone call to the team which indicated them to go to the trailer park. The team soon arrived at the Aloki Settlement and there, they saw Keanu holding Ramirez in a headlock and pointing a gun at his head. The team then warned Keanu, who still did not want to drop the gun since Ramirez wanted to send him to a juvenile offenders' home. However, he did not kill Ramirez, but just fired a bullet through his hat and fled. He did this so that he could distract the team and run away. The team then approached Ramirez, who was holding Keanu's Grim Gas employee badge which he had ripped off from Keanu's clothes during the struggle.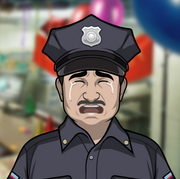 Ramirez played a short but major role in putting an end to The Crimson Order and saving the player's life when the team was finally arresting the secret society's leader, Milton Grimmes. After completing his boasting about how he could declare himself a dictator and a God, Milton attempted to kill the player with his handgun. Fortunately, Ramirez intervened by hitting Milton with his frying pan—mirroring the saving move he demonstrated back when the team arrested Tess Goodwin. Few days after the closure of this case, the team threw a farewell party for the player as the player was leaving for Pacific Bay after accepting a promotion to its police force. Ramirez could not bear the fact that the player had to leave them all, and thus cried in sorrow a few many times but at last happily and proudly bade goodbye to the player.
Season 2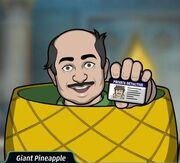 Not too long after closing the case, Frank and the player encountered Ramirez, disguised as a giant pineapple, while helping out a 12-year-old pickpocket named Ahmet. Ramirez promptly unmasked himself, before asking in excitement if the player remembered him. He went on to clarify that he was not part of the Grimsborough Police anymore, saying Grimsborough did not feel the same to him without the player, which prompted him to move to Pacific Bay as soon as he got the opportunity. He then took out a badge to reveal that he was now a private detective, offering to provide the player with help anytime he was called up.
Ramirez came to Frank and the player to seek help in finding his lost notebook at the Saint Patrick's Day parade. He explained that he had been hired by a big hospital to run a background check on Dr. Mark McKenzie, a crooked surgeon, and that the notebook contained vital information relating to Dr. McKenzie. After recovering the notebook for him from a pile of leftovers, the player shipped the notebook to Hannah for analysis. Hannah managed to confirm that Dr. McKenzie was guilty of harvesting illicit money to meet his ends.
Mid-investigation, Ramirez came into the police station to inform Frank and the player that he was on an undercover mission at the Chinese festival when he got lost in a back alley which led him to an illegal operating room filled with human organs. His discovery of the operating room would ultimately lead the team to solve the case.
Ramirez was on an undercover mission before being interrupted by Frank and the player, who wanted to ask him if he could find out which of their suspects demonstrated dependence on sleeping pills, which happened to be one of the killer's attributes. He agreed to help, and would eventually assist the team in bringing forth the killer to justice.
Ramirez, now hired to investigate relics and antiques trafficking in Pacific Bay, helped the team retrieve a stolen rare diamond, which would ultimately lead to the arrest of Rico Damascus and Velma Bannister for plotting the theft.
Amy asked for Ramirez's help in finding out which of their suspects used bath salts, which happened to be a tricky piece of the killer's profile. Ramirez had to rely on a lion's suit to fulfill Amy's request, which somehow worked.
Ramirez was arrested for trespassing mid-investigation but cooperated with Frank and the player stating that evidence might be lost during the clean-up of the wedding chapel where a couple was recently married. Therefore, the player and Frank took Ramirez's advice for granted.
Season 5
While reconvening in the middle of the investigation into the murder of Nathan, Jones suddenly felt the presence of someone watching them. Ramirez appeared from behind the newspaper and greeted the player, saying he wanted to surprise them. Jones said that Ramirez had come back from his stint in Pacific Bay as a private investigator and had since helped as the Grimsborough Police Department's consultant. Ramirez expressed pride at his honed skills and asked the team to let him know if he could be of any help.
After arresting Meera Kat's killer, Ramirez alerted Gloria and the player to the fact that he had found Zoe Kusama, Jones' missing girlfriend. He explained that he had found Zoe by Meera's performance stage, prompting Gloria and the player to recover her.
After arresting Doris Black's killer, Ramirez asked Jones and the player for their help. He told the team that it was his son's birthday and that he had promised him some authentic pico de gallo. However, he could not find the habanero peppers that he needed for the dish. Hearing that some habanero peppers had been delivered to the dome, Ramirez asked Jones and the player to find the peppers. After finding the peppers and creating the pico de gallo, Ramirez and the player tested it out on Rita, who could not handle the dish's spiciness.
Analyses
As the Consultant of the Grimsborough Police Department, Ramirez has the responsibility of analyzing handwriting, messages, and photographs that do not require digital, physical, clinical, anatomic, technical or psychological analysis, and to inform the team of such results after a certain amount of time or a speed-up process using Criminal Case Cash. His task-wait rates vary depending on the difficulty of the task, but they all cost 1 Criminal Case Cash per 30 minutes.
Below is the list of analyses Ramirez performs throughout the course of the game:
Case #1: Snake in the Grass
Old Photo (09:00:00)
Nathan's Diary (06:00:00)
Case #2: Hell Is Other People
Case #5: Too Cruel for School
Case #8: Stonewalled
Confidential Documents (06:00:00)
Case #12: The Art of Murder
Earthquake Photo (09:00:00)
Case #13: Gone Pear-Shaped
Employment Contract (09:00:00)
Case #18: Game Over
Case #22: Color Me Murdered
Fish Statue (09:00:00)
Olive's Diary (09:00:00)
Case #23: I Lost My Heart in Xerda
Store Transactions (06:00:00)
Case #24: The Truth Hurts
Poster Information (06:00:00)
Case #36: Up in Flames
Case #38: Pain in the Neck
Julian's Application (06:00:00)
Case #39: Deadeye
Case #46: Like a Pig to the Slaughter
Case #48: To Kingdom Come
Stack of Photos (12:00:00)
Case #51: Out of Breath
Case #53: Playing Dead
Case #57: Reap What You Sow
Message on Key (12:00:00)
Gameplay
The player may choose Ramirez to join the investigation of each crime scene (in any case in Grimsborough or The Conspiracy) and provide hint bonuses. He is available as a 2-hint partner. (This feature is only available in the mobile variant of Criminal Case.)
Trivia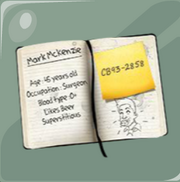 Ramirez, Tony Marconi, Harper Stone, and Jones are the only characters to physically appear in three seasons of the game.
Ramirez is one of the characters to appear as a quasi-suspect twice.
Ramirez is one of the characters who animate (or move) during at least one cutscene in the game.
After the player recovers Ramirez's notebook for him in Spineless (see Events of Criminal Case), a drawing of Jones eating cookies can be seen on the bottom of the page at the right-hand side.
Case appearances
Season 1
Season 2
Season 5
Season 8
Gallery
Screenshots
Promotional images
Community content is available under
CC-BY-SA
unless otherwise noted.