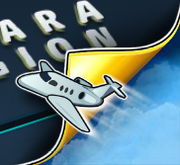 Choose Your Destination (previously known as Travel to Another City) is a gameplay feature in Criminal Case. It was released on March 13, 2014.
Overview
The feature provides the ability to fast travel between the Grimsborough, Pacific Bay, World Edition, Mysteries of the Past, and The Conspiracy maps, at the player's convenience. This, in turn, provides the player with the ability to earn any remaining Gold Medals, Rings, etc., from past seasons.
Choosing destinations
To choose a destination, the player has to:

Click on the airplane logo on the map of the season they are currently in. It is located at the upper right-hand corner of the screen in Grimsborough; in Pacific Bay, it is located at the bottom left-hand and upper right-hand corners of the screen; in the World Edition, it is located in England, near the first case, and in Canada, near the last case; and in Mysteries of the Past, it is located at the bottom left-hand corner.

Alternatively, click on the airplane logo at the lower right-hand corner of the game's screen.

Scroll up or down to choose what season they want to play.
Click on "Investigate" to travel to that destination.
Gallery