Charlotte Fontaine was a suspect in the murder investigation of popular ice skater Juan Rodrigo Vasquez in Hearts of Ice (Case #26 of Pacific Bay).
Profile
Charlotte is a 65-year-old chocolate designer and the owner of the Mon Petit Chocolat line of high-end chocolates. She has blue eyes and ginger hair which goes up to her neck. As for her accessories, she sports a pair of chocolate-shaped earrings along with a red rose and dons a burgundy t-shirt with a brown fur boa around her neck, and carries a box of chocolates in her right hand. It is known that Charlotte eats cherry liquor chocolates, uses breath sprays and drinks champagne.
| | |
| --- | --- |
| Height | 5'3" |
| Age | 65 |
| Weight | 130 lbs |
| Eyes | blue |
| Blood | O+ |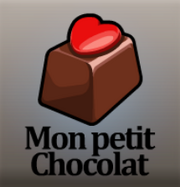 Charlotte found herself in trouble after Amy and the player found a commercial script for the production of the Mon Petit Chocolat commercial, in which Heather Valentine outed Charlotte as the founder of the brand. Heather told Amy and the player to intercept Charlotte in the Love Village about Juan Rodrigo's possible involvement in the chocolate brand.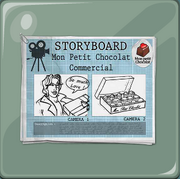 Charlotte admitted to the authorities that Juan Rodrigo was supposed to be in the Mon Petit Chocolat commercial but even if she would be unable to find as aspiring as the now-deceased ice skater, she had to find a new muse for the commercial. Charlotte even made Amy and the player aware that Juan Rodrigo was known to be a "chick magnet", an attribute Charlotte required to ensure a proper sale of her chocolates although she admitted that the victim was arrogant at times.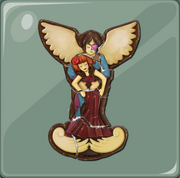 Charlotte was under fire after Amy and the player found a chocolate statue inside the White Peaks candy shop. The chocolate statue had a simulated Juan Rodrigo as the angel and a simulated Charlotte as the victim. Charlotte told the authorities that she recently found Dimitrios Moustaki as the new muse for Mon Petit Chocolat given Juan Rodrigo's arrogance in spite of the injuries Dimitrios sustained.
At first, Amy thought that Charlotte's decision to choose Dimitrios over Juan Rodrigo would be registered as a strong motive for the murder, but at the close of the case, heartbreak and dishonesty would eventually be the real reason for the murder. Charlotte was proven innocent, and was excused from the authorities afterwards.
Trivia
Charlotte is one of the characters who animate (or move) in at least one cutscene in the game.
Charlotte strongly resembles Sonia Rykiel, a now-late French fashion designer and writer.
Charlotte's surname means "Fountain" in French.

Interestingly, her name sounds similar to "chocolate fountain."
Case appearances
Gallery
Community content is available under
CC-BY-SA
unless otherwise noted.