Calvin Ono (Jpn: 小野.カルバン) was a suspect in the murder investigation of ski jumper Anjulie Cruz in Leap of Death (Case #25 of Pacific Bay).
Profile
Calvin is a 54-year-old businessman of Japanese heritage who has black hair with hints of light gray on the sides. He sports an orange cap and a fur coat with a black business suit over a white shirt and a yellow tie. For accessories, he has a "King Dairy" logo and his sponsor badge on his suit. It is known that Calvin has a snow mobile, eats fondue and wears lip balm.
| | |
| --- | --- |
| Height | 5'7" |
| Age | 54 |
| Weight | 170 lbs |
| Eyes | brown |
| Blood | B+ |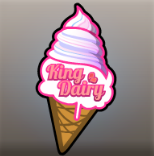 Calvin is the head of King Dairy's sponsorships division.
Calvin was interrogated by the Pacific Bay Police Department moments after Amy and the player found a t-shirt which was taken to Hannah for analysis. Upon finishing her research of the t-shirt, Hannah found out that King Dairy (Amy's favorite ice cream brand) was one of Anjulie's sponsors, with Calvin as the head of sponsorships.
A devastated Calvin told Amy and the player King Dairy had sponsored Anjulie since her childhood, in which the victim admitted her dream of dominating the Frosty Cup as one of the first female athletes to strike gold one day. The relationship between Anjulie and King Dairy proved to be successful as Anjulie's fight for gender equality in sports built her celebrity profile, but Anjulie's death would mean the end of success for King Dairy, Calvin feared.
Calvin was questioned by the police again after Amy and the player found a tampered skiing helmet (immediately after the International Skiing Association press conference was over) analyzed by Hannah to be a sponsorship deal with Rocket Cow Energy Drinks. Money was the driving force behind Anjulie's decision to switch to Rocket Cow--grounds for having Calvin infuriated.
Calvin took Anjulie's decision to side with Rocket Cow harshly as he told the police sponsorships were about loyalty. Calvin placed a lot of work for Anjulie's petition to participate in the Frosty Cup, but instead of thanking Calvin, Anjulie swapped King Dairy with Rocket Cow. Greed and fame consumed Anjulie, as Calvin felt humiliated by Anjulie's sudden betrayal.
Calvin was innocent when an act of sexism was unearthed at the end of the investigation.
Case appearances
Gallery
Community content is available under
CC-BY-SA
unless otherwise noted.