Brian MacKenzie was a suspect in the murder investigation of tourist writer Paula Mahler in Into the Woods (Case #27 of Pacific Bay).
Profile
Brian is a 40-year-old mountie from the Royal Canadian Mounted Police. He has green eyes and sports short brown hair concealed underneath his ranger hat. He dons a typical Mountie uniform. In addition, he wears a heart-shaped badge of a horse on the right side of the uniform. Besides that, he sustains a bruise on his left chin. It is known that Brian knows knot making, has contact with wood mushrooms and wears hiking boots.
| | |
| --- | --- |
| Height | 6'0" |
| Age | 40 |
| Weight | 180 lbs |
| Eyes | green |
| Blood | O+ |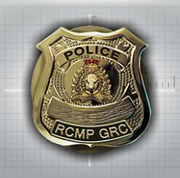 Brian was flagged as a suspect after the player found a Mountie's badge in Paula's camp. The badge required Hannah's intervention, in which she managed to match the badge number to Brian, who was last seen in Paula's camp. Hannah talked to Brian's superiors, thus finding out that Mr. MacKenzie was visiting Logan's Pass. Ironically Brian's camp was next to Paula's, so this warranted a conversation.
Frank and the player handed Brian his badge at the condition of knowing whether or not the Mountie knew Paula, who was murdered. Brian was aghast about Paula being murdered, but in spite of his shock of hearing Paula's death, he told the team his endeavor to know his neighbors. Brian often had to help Paula since her incompetence warranted Brian to help out every chance he had.
Brian was due for a second conversation after the player found a tape recorder during the team's second check-up in Paula's camp. The tape recorder was broken beyond repair, requiring Hannah's intervention once again. Hannah told the team Brian spoke French in a tone he was angry at Paula for hurting the Mountie's horse.
Brian hated the idea of Paula feeding Biffendecker (Brian's pet horse) chocolate which made Biff ill. Brian would be useless to the RCMP without Biffendecker and had to cure his beloved horse after finding out that chocolate does not agree with Biff's system. Although this incident made Brian a strong suspect, he was found innocent after disappointment due to insubordination was exposed to be the reason for the murder.
Brian was caught in the middle of the Night Walker's range of danger after the team found a necklace verified by Hannah as a charm to fend for himself against the mystical monster. Frank thought it was unusual for a Mountie to rely on a charm for protection, but Brian took his safety seriously, and told Frank that having an amulet to protect himself was not personal, but a precaution.
Trivia
Brian's bruise is misplaced in his mugshot artwork.
Case appearances
Gallery
Community content is available under
CC-BY-SA
unless otherwise noted.