Baxter Trask was a suspect during the murder investigation of history novelist Rosie Gatewood in The Poisoned Truth (Case #54 of Grimsborough).
Profile
Baxter is a 58-year-old business tycoon with gray hair and a fine clean-cut mustache. He has a pearl earring on his right ear and wears a pair of violet glasses. He wears a jade business suit with an orange shirt with skull pattern underneath it. He also has a purple bowtie with a skull design in the center. It is seen that he wears a gold dollar shaped badge on his right lapel and carries cards in his right breast pocket. It is known that Baxter knows about botany, collects "KILLER CARDS" and practices fencing.
| | |
| --- | --- |
| Height | 5'8" |
| Age | 58 |
| Weight | 165 lbs |
| Eyes | green |
| Blood | A+ |
After finding the killer's "POISON" box in Geert De Haan's secret lair, Jones and the player also found a bunch of cards featuring Tess Goodwin, Alden Greene and Tony Marconi. After careful analysis, they were confirmed to be the collectible "Killer Cards" described like sport collectible cards but with the murderers of Grimsborough, created by Baxter Trask. Officer Jones regarded Baxter about creating such cards and turning killing into a game.
Baxter was interrogated a second time when the team found a new Killer Card featuring a Crimson Order member which featured the exact murder weapon used by Rosie's killer. Baxter said that it was true that the Crimson Order was liable for Rosie's death due to her investigating about the secret society. He continued by saying the truth about Geert De Haan's miracle baby legend--after Geert stabbed Harriet Gatewood, the victim's ancestor, to death in the secret cave, the Crimson Order ordered him to use the baby of his and Harriet's, and telling the whole village that it was sent by God. With this, the secret society augured everyone would follow him after this.
Baxter was proved to be innocent after Ashton Cooper was convicted of the murder.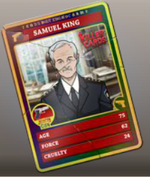 During the Additional Investigation of the very case, Baxter fooled Ramirez into letting him enter the secret cave by showing him his brand new card of Ashton Cooper which Ramirez greatly admired. The team then decided to search the cave and happened to find a torn Killer Card of the deceased Chief King of Grimsborough PD. In order to prevent ruining the ex-Chief's reputation any further, the team went to grill Baxter, who decided not to post the card anyways.
Case Appearances
Gallery
Community content is available under
CC-BY-SA
unless otherwise noted.