Anton Levin (Rus: Антон Левин), also known as "White Bear", was the victim in A Russian Case (Case #5 of Grimsborough). 
Profile
Anton was the head of the Russian mafia. He was also the owner of his restaurant, Levin's Restaurant. He was the father of Mikhail Levin and of Eva Coleman's (Mikhail's girlfriend) unborn child.
Anton was bald and had white facial hair. He sported blue eyes and wore a gold chain, an untidy blue shirt, and a red blazer. In addition, he wore a pair of red and black glasses.
Murder details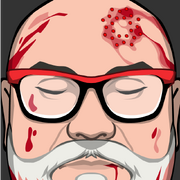 Anton was found dead in his restaurant on a chair, bleeding over the floor. Nathan counted 36 oddly-shaped wounds on Anton's head during the autopsy. From the angle of the wounds, he deduced that the killer was 6 feet tall and that Anton died fighting. During the fight, he scratched his killer's face. During the investigation, it was discovered he was murdered with a meat tenderizer.
Relationship with suspects
The suspects involved with Anton's personal life included Mikhail, who said that Anton deemed him worthless and thus disowned him, and Eva, who Anton was having an affair with and even impregnated. In fact, Eva told the team that she was planning to leave Mikhail for Anton.
Meanwhile, the suspects involved with Anton's gang life included his right-hand man, Dimitri Balanchine, who was making secret business deals with Italian mafioso Tony Marconi behind Anton's back as he had wanted more influence so he could take over Anton's position as the leader of the Russian gang.
Killer and motives
The killer turned out to be Mikhail.
Mikhail was enraged when he found out that his own father was having an affair with his girlfriend Eva and impregnated her, leading him to beat his father to death.
Judge Hall sentenced him to 23 years in prison.
Trivia
Anton's death in the hands of his son is one of the instances of domestic homicide in Grimsborough.
Anton resembles David Ogden Stiers, an American actor and conductor.
Case Appearances
Gallery
Community content is available under
CC-BY-SA
unless otherwise noted.