Alexander Vladinsky was the killer of stall owner Mary Gray in The Lake's Bride (Case #27 of Grimsborough).
Profile
Alexander is a 31-year-old poet who has shoulder-length brown hair and scratches above his left eyebrow. He wears a white dress shirt, brown vest, macaw blue scarf, and sepia brown suit with a rose and a feather pen in its pockets. It is known that Alexander collects stamps and has a dog.
| | |
| --- | --- |
| Height | 5'7" |
| Age | 31 |
| Weight | 150 lbs |
| Eyes | blue |
| Blood | A+ |
After Thomas Benson told Jones and the player that a mysterious man had met the victim the day before her death, they asked him if he could describe the man. Thomas replied that the man had long brown hair, blue eyes, and a rather feminine mouth. The team then matched the mysterious man's description with their database and discovered that he was Alexander Vladinsky, a poet who was once arrested for stealing roses.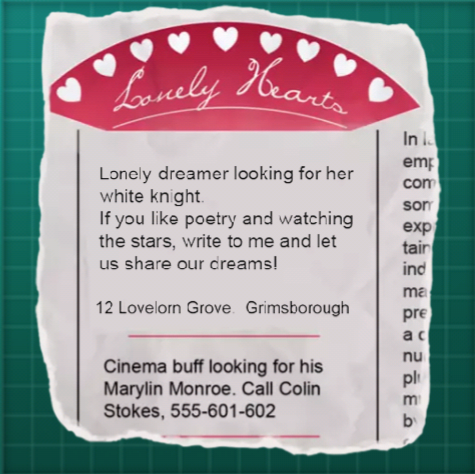 The team then interrogated the poet, who told them that he loved Mary and that they were soulmates. He also said that Mary was the person he had been waiting for his entire life, and that when he read the victim's ad in the Grimsborough Gazette (a newspaper), he instantly knew that she was "The One."
At the end of the case, Alexander was arrested after all the proofs pointed towards him. He had a mental problem and saw everything through his eyes as poetry. He loved Mary a lot and thought that love, passion, and death were all similar and murder was the highest form of desire. Since Alexander had a mental problem, Judge Hall sentenced him to 30 years in jail, accompanied by a psychiatrist.
Case appearances
Gallery
Community content is available under
CC-BY-SA
unless otherwise noted.